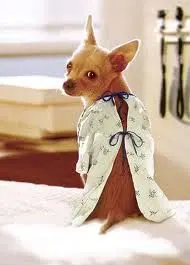 At Four Paws Animal Clinic we believe you should expect high quality care as well as great service. Our goal has been to assemble a veterinary health care team committed to providing exceptional client service and veterinary health care. Our commitment to you is to continue to offer our world class service and a state of the art veterinary facility.
Your pet's annual vet check-up will include a total physical exam, with a thorough investigation of your pet's head, body and tail, examining his or her ears, teeth and mouth, listening to the heart and lungs,palpating the abdomen for any abnormalities or masses, checking lymph nodes and joints.Please let us know if there has been any change in habits, physical changes or unusual occurrences, such as an increase or decrease in water or food intake or any small shifts in your pet's behavior.
We are always willing to explain all the procedures your pet undergoes and hope to help you and your pet feel comfortable. Never be concerned about asking too many questions!
If your pet must undergo a procedure that requires more precise knowledge and experience than we have, we have several veterinary specialists, veterinarians who have completed advanced studies in specialties such as internal medicine, surgery, and radiology and imaging, that we can call in for exams or consultations. Since they will come to Four Paws Animal Clinic, it may save you a more costly trip to a Specialty Practice in Sacramento, Loomis or Davis.