Four Paws Animal Clinic
Serving Nevada City and Grass Valley and More!
521A Searls Ave., Nevada City, CA 95959
530-265-3722
Dr. Susan Murphy
Dr. Sue Lester
COVID-19 Protocols
At Four Paws Animal Clinic, we are committed to continue to care for your pet's medical needs. We are now available for all appointments types, including routine health care.
We will open up for limited in clinic exams on April 1st, 2022. We will allow 1 person in to the exam room with their pet.

Masks will still be required in the hospital per CalOSHA and CVMA requirements.

For those who prefer we will continue offer "Curbside Care". In either case, please call us from your car when you arrive, and a staff member will be out to assist you. We would appreciate your use of masks or face coverings when interacting with our staff or doctors. Thank you for your confidence in us. We look forward to continuing to serve you.
---

Spending more time outdoors means more exposure to the elements, especially fleas and ticks. It's important that all your pet's preventative care is up to date, including flea, tick, heartworm treatments and vaccinations. Pet parents should keep a file with their pets' medical information handy and stay on top of all your pets' annual and seasonal veterinary wellness needs.

Pets should wear their ID tags at all times especially during the warmer months when they will be spending more time outside. It's up to pet parents to make sure proper identification is worn, legible and up to date with the most current information. Microchipping your pet adds extra safety measures to ensure your pet is properly identified.
Keeping your pet clean and groomed helps them to shed their winter coat, but also prevents skin irritations from allergies, fleas and ticks. Proper coat maintenance also helps to keep their temperature regulated in the warmer months.
Grooming also includes good dental hygiene and diet. As well as proper ear cleaning and nail trimming. These are all good habits for grooming your pet year round, but especially during spring and summer when your pets spends more time outside.
Pets can have allergies too. Regular grooming can help identify the signs of allergies, such as swollen eyes, frequent scratching, skin irritations and sneezing. If you pets exhibits any or all of these symptoms you should schedule a visit with you veterinarian. Clean all clothing, toys and objects if you think you or your pet have been exposed to a contaminant or show signs of allergies or illness.
Lilies and other seasonal plants can be toxic to pets. Common household and garden flowers can pose a threat to a curious cat or pooch. Learn more about potentially hazards plants here. Spring showers and sprinklers can leave puddles of standing water. Try not to let your pet drink out of the puddles of standing water, as they can be filled with bacteria leading to gastrointestinal upset or other ailments for your pet.
Remember that summer is fun for you and your pet, get outdoors and enjoy the warmer weather and sunshine. Most importantly practice pet safety so everyone can stays safe and happy!
Our Resolution
Our Resolution is to always do our best to provide excellence in wellness, illness and surgical care for patients; to build close, positive relationships with clients, and to provide education and empowerment to clients and staff in a calm, comfortable, healing environment.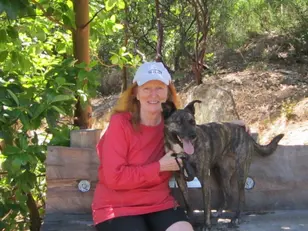 Dr. Susan Murphy and Jenna
Four Paws Animal Clinic is a full-service animal hospital whose mission is to provide compassionate care and support for all our 4 and 2 legged friends. We provide complete medical, dental, surgical and imaging services, including ultrasound as well as deluxe cat boarding. Our staff is extremely well trained and are passionate about veterinary medicine , having worked with Dr. Murphy at Best Friends for many years. She calls them the "Dream Team".

At Four Paws Animal Clinic, you will walk into a calm, welcoming, and friendly environment every visit, so that the experience is as comfortable as possible for you and your pet. We strive to provide professional, affordable, and advanced veterinary services, including, but not limited to newer alternative therapies such as cold laser and stem cell therapy using your pets own stem cells found in their fat cells. click here to read about this new and exciting treatment for your pets arthritis .
We also have an in-house pharmacy, dental care products, carry some premium foods and have access to specialists, making our veterinary facility a one stop shop for your pet's health and medical needs. Please browse around our new website to learn about our facility and to read interesting pet articles. Click on the "email us" link below to ask us a question or to submit feedback. For directions to our office see our contact us page. To receive free monthly veterinary care articles, please subscribe to our newsletter.
Remember, at Four Paws Animal Clinic, your pets are our family!
Dr. Susan Murphy
Nevada City Veterinarian | Four Paws Animal Clinic | 530-265-3722
521A Searls Ave.
Nevada City, CA 95959