Our Outstanding Staff!
Dr. Susan Murphy - Graduated from UC Davis School of Veterinary Medicine in 1987 with honors. Dr. Murphy has a son, daughter-in-law and 3 Grandchildren in Arizona (she started young!). She and her partner have 2 dogs. Blu, a Queensland Heeler, and Chip, a smiley mini long haired Dachshund. Her hobbies include kayaking, snorkeling (nice photo!), mosaics, and Taiko drumming.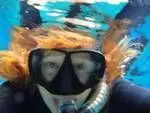 Our other great doctor, Dr. Sue Lester, came to us from Animal Medical Center in Auburn. She is a long time Nevada City resident, and brings her knowledge and compassion, as well as profound caring for your pet. Sue enjoys attending local concerts and events, spending time with her mom, and caring for her two mischievous boy kitties, Robbie and Henry, that bring her great joy.
Amanda and Jessica have been best friends since kindergarten! I was fortunate enough have them as employees at my old clinic, and thrilled that they wanted to work here at Four Paws Animal Clinic. While they keep putting off have recent pictures taken, I'm sure those of you who have been in will recognize them from their lovely smiling faces.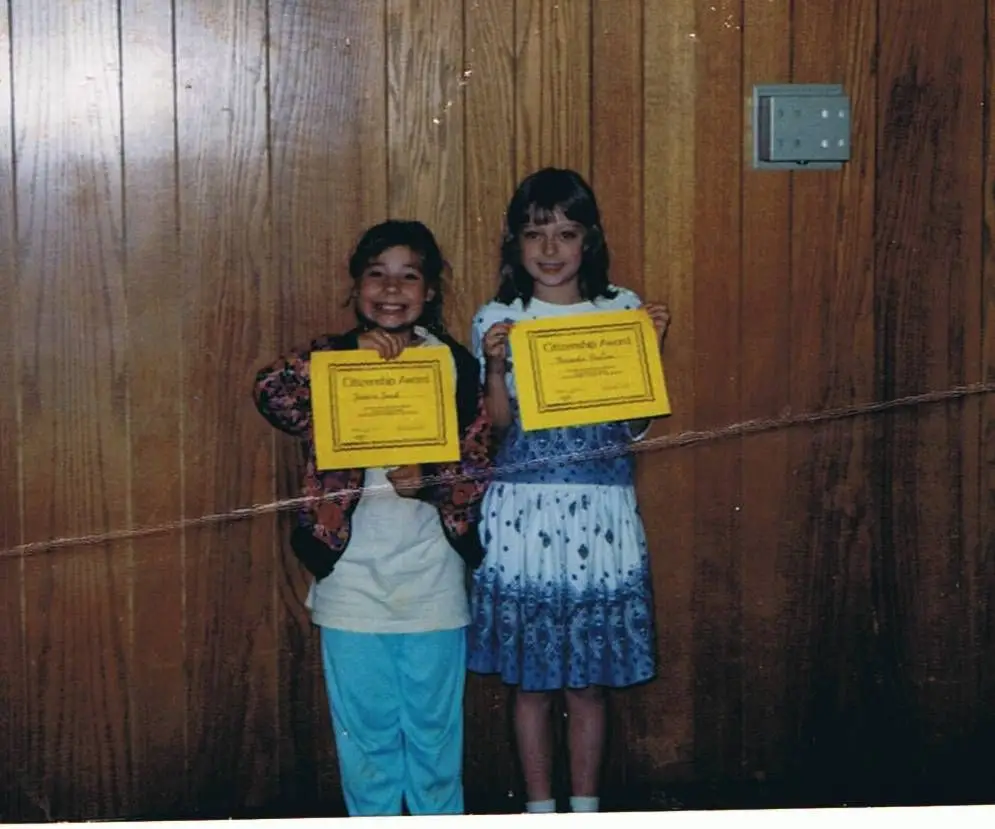 Here are members of the dream team at an earlier time, proudly displaying their good citizenship awards!
Amanda, Hospital Manager - I began working with Dr. Susan at the age of 15 and, aside from a few years elsewhere, I have pretty much stayed working with her since. Susan, Jessica (my bestie since kindergarten), and I started the great adventure of starting what is now Four Paws Animal Clinic in 2010, and what a journey it has been! I love the personal relationships that we are able to create with not only team members, but each client and pet that comes through our doors. We get to share in the joys and sorrows of their lives, which makes for a really special family-style environment, and I am truly thankful to be a part of it. I am lucky enough to be married to my high-school sweetheart, and we have two awesome boys of our own. We are active in local sports, 4H, camping, fishing, and enjoying life on our mini farm with our ever-expanding group of critters with paws, wings, and hooves.
Jess , RVT - I met Susan (Dr. Murphy) when I was eight years old with wildlife rehabilitation, and she hired me as an assistant at 15. I have been working as a licenced RVT (Registered Veterinary Assistant) since 2009. I have dogs, cats, ducks, chickens, pigeons, snakes, fish, and miscellaneous amphibians. I enjoy gardening, wood burning, photography, and wildlife. I am a proud mom of two daughters and two sons each with great personalities and a wide range of aspirations. I treat all patients as if they were my own and try to make them feel special. I am proud to have my best friend as my manager and have such a close relationship with the staff and clients.
Jessica, RVT - I've been in the veterinary field since 2002, starting out as a volunteer at a large/small animal emergency clinic. This sparked my love of veterianry medicine and I've been working with animals ever since. My husband, two little girls, and myself moved to the area in early 2020 from the bay area. We have four lovely animals; two ctas, Johnny and Sally, along with two dogs, Shelby and Max. If I am not taking care of the animals or family, I spend my time baking, reading, or cross stitching. We are a family of hikers as well and are happy to spend a day on the trail in the open air and wilderness. This job has been my passion for many years and will be for many years to come.
Leslie, RVT - Leslie began working at Four Paws in 2020, and she comes with many years of extensive veterinary experience. Leslie actively teaches aspiring RVTs through the CVMA (California Veterinary Medical Association) online courses. She loves spending time dancing, visiting Virginia City with her husband, snuggling her Chihuahua babies, and making beautiful handmade soaps.
Danielle, Veterinary Assistant - I have been working at Four Paws since 2017 and I still feel like I won the job lottery! I've always had a passion for animals (especially cats) and I'm so happy I have the privilege to work with the amazing team here! When I'm not at work, my husband, son, and I are working on our home, adventuring outdoors, or playing with our three kitties. I also enjoy making jokes, regardless of whether or not they're actually funny. Puns are my favorite.
Shelby, Veterinary Assistant - I have been working at Four Paws since January 2016. I was new to the field and couldn't have asked for a better group of people to take me in and teach me their ways. Outside of work I am a parent and a student. In whatever little amount of free time I can find, I love spending it with my family. We enjoy most outdoor activities but are really into disc golfing, camping, and fishing. I hope to see you at the clinic, where we turn friends into family.
Elisa, Receptionist - Elisa has been working with us since 2018 and is one of the friendly voices that will great you when you call. She has three dogs, a spunky kitty, and an impressive collection of fish. Elisa and her husband enjoy adventuring together, spending time with their kids and grand kids, rooting for the Giants, and bird watching.
Caitlyn, Receptionist - Caitlyn started her journey with us in 2020, and has been a great addition to our team. She has an obsessive love for her Frenchies and Bostons (and any other ones she can snuggle here), as well as for her awesome amphibians (so many frogs!).
Chelsea, Veterinary Assistant - Chelsea is our newest addition here at Four Paws, and what an awesome gal she is! She started off here as a kennel attendant and quickly proved to be an asset to her team, eagerly training to become a veterinary assistant. Outside of work, Chelsea enjoys going to the gym and hanging out with her boyfriend.